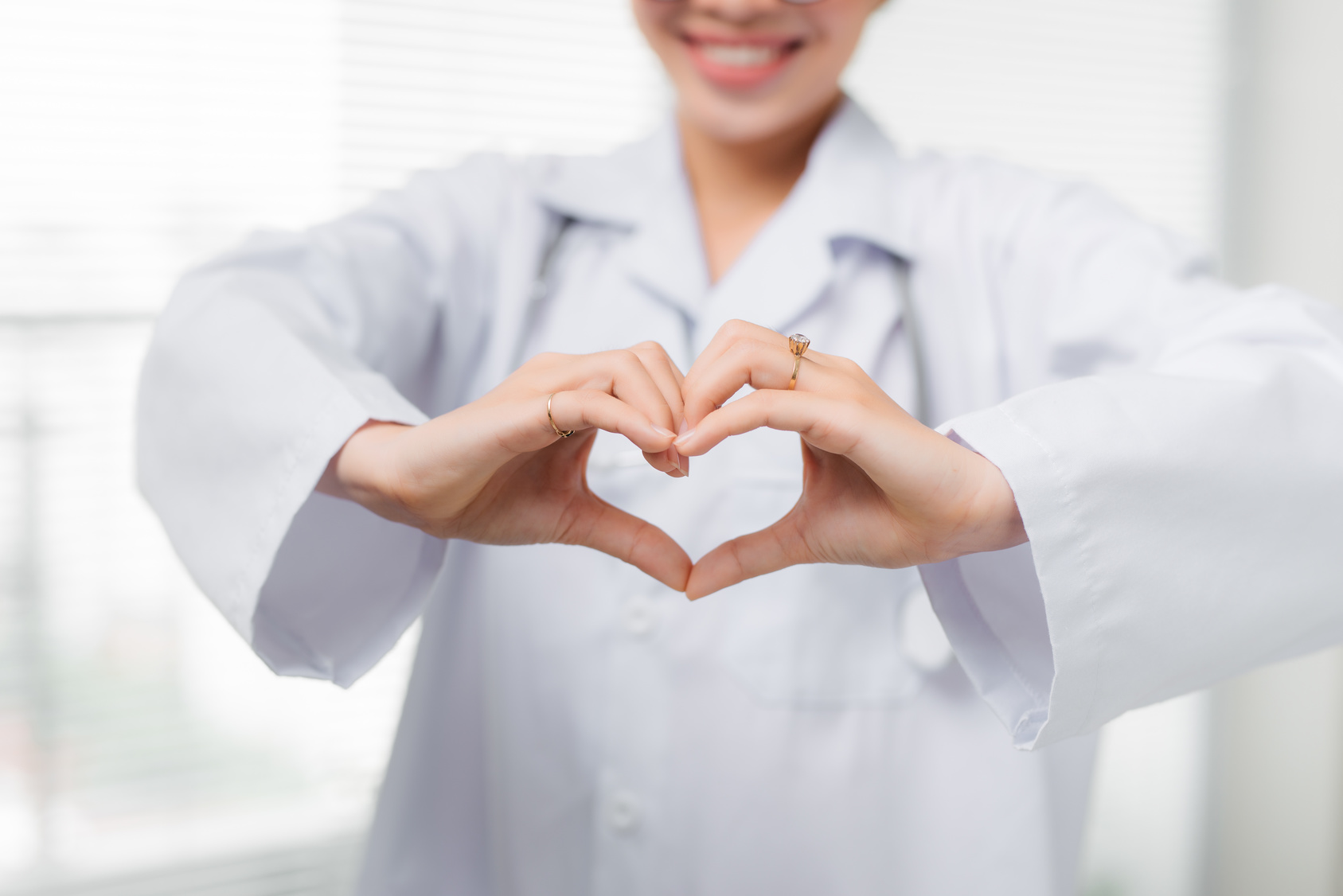 The Tolbert Center Difference: Healing People Is a Labor of Love for Medicine
The first time you walk into The Tolbert Center, you should notice something different.
Actually, the second, third and every time after that, you should notice something different as well.
That's because we understand that, for a long time, something has been missing from most doctor's offices: real people.
Here's what we understand about people: most of us have great anxiety about going to see a doctor, and most of that fear is fueled by worrying that you're going to get bad news.
That fear is heightened when you go see your doctor for a visit or a checkup and you're greeted with a lot of blank stares, attitudes, mundane paperwork and other impersonal interactions.
No wonder why about 3% of the population suffers from iatrophobia, the medical name for fear of doctors.
That is why we have worked hard to perfect a model that says, whenever you walk in our doors, we welcome you to The Center where you are the center—whether you are a patient or you are a team member.
Since it's Valentine's Day and I'm reflecting on the fact that this holiday is centered on love and relationships, I thought it would be timely to share something that the center has in common with this time of the year.
You see, just like Valentine's Day, love isn't just a word here at the center. It's a way of practicing medicine and, ultimately, the main prescription that we offer that allows people to get healed.
Here is what I mean.
The problem with modern medicine
Over the years, because of a number of reasons, medicine has been lulled into submission.
For most, practicing medicine has become all about checking off boxes on the computer, and shuffling authorization forms has been confused with providing quality health care. If the treatment is not authorized by the health plan, it is not offered or not even mentioned.
As a result, many patients are unaware of the latest medical advances that are available to them.
In my view, we, as doctors, owe it to our patients, ourselves and society to create, innovate and dream big.
After all, we are scientists, not technicians. It saddens me to see the exquisite art of diagnosis diminished to making decisions solely based on x-ray or an MRI. No wonder that, despite the increase in surgeries that take place throughout the country every day, there is a rise in pain and pill use.
That is why I challenge my team at the center to be bold when you have an idea that might save a patient's life. I also challenge them to be scared when others in the healthcare industry shun their non-traditional approaches to medicine because they know that our "non-traditional" treatment could actually heal someone.
Most of all, I encourage the team to take those bold steps not just to be different—but for the love of medicine.
A dilemma at the doctor's office
I'm reminded of a woman who once came to my office with tears in her eyes. Sitting next to her was her 90-year-old mother, who was elegantly dressed and seemed like she was living the best life in her retirement years.
The woman said to me, "Doctor, we don't know what to do. My mother lives in a beautiful retirement facility. However, I'm getting calls every night because she's in pain, and they don't know what to do for her."
When I asked her mother what was hurting, she responded, "It's my shoulder."
"The facility is so lovely, and the people are so nice—and all I want to do is dance," she continued. "But I can't because of my shoulder. All I want to do is stay in bed."
When I looked at her medication list, she was on oxycontin three times a day. She was on Ambien to help her sleep. The list also included a number of other medications as well.
When I went to put my hand on her shoulder, the woman shrieked. I also moved her shoulder to check its range of motion, and it literally sounded like her shoulder was disintegrating.
I ordered an MRI, and the radiologist reported back to me, "This is the worst shoulder I have ever seen." He went on to list a number of abnormalities found in the woman's shoulder.
It was at that moment when I was faced with a dilemma: Should I let the woman remain in pain knowing that most doctors were being pushed to check off boxes and shuffle authorization forms? Or should I offer a treatment that I knew could actually heal her and let her really enjoy the rest of her retirement years?
How did I know there was an alternative? Because, as a young girl, I was diagnosed with scoliosis and I was told that I would never be able to have kids or have an active lifestyle.
But as a physical medicine and rehabilitation doctor, I knew that I could apply the medical practices I had learned over the years to my own pain. I now have three sons, I dance ballet and I live with no pain.
So even though this woman was 90 years old, I knew I had no choice but to treat her, and that's what I did.
I advised the woman and her daughter that platelet rich plasma (PRP) injections were the best treatment for her shoulder pain.
Several months after administering the treatment, the 90-year-old woman returned to my office with her daughter. When I asked her how she was doing, she began flailing her shoulders around and said, "Look, doctor. I'm belly dancing at the facility now."
Putting the patient back at the center of health care
This breakthrough would not have been possible if we had not created an environment where the patient was the center of her care.
That's why, at the center, we incorporate our love for medicine into everything we do.
The philosophy here is to offer everything we can to help people be all that God intended for them to be, which is fabulous regardless of what their insurance covers.
Our goal is to remove the healing barriers and provide tools that help patients be their best selves.
We put this philosophy into practice in seven main ways.
The patient is the focus
Most patients are referred to us because of a functional loss due to injury, illness or chronic pain. We want people to be able to take control of how their bodies heal, so our treatment decisions are based on what's best for patient, not what's best for an insurance company.
We are a medical facility
As a PM&R physician, I treat any disability resulting from disease or injury involving any organ system. The conditions that rehabilitation physicians manage span the entire spectrum, from the most complicated multiple trauma to injury prevention for athletes.
Our goal is to decrease pain and enhance performance without surgery. We address and remove barriers that lead to medical illnesses, including medications and pain, by treating the following general medical conditions:
Carpal Tunnel
Neck Pain
Back Pain
Sports Injuries
Industrial/Work Injuries
Herniated Disc
Pinched Nerve
Arthritis
Stroke
Brain Injury
Concussion
Regenerative medicine is one of the best treatments for pain
Regenerative medicine uses minimal invasive procedures along with a patient's own body to heal that person. Regenerative therapies, such as cell therapy transplants, PRP and prolotherapy, are safe, cutting edge alternatives to surgery.
Studies show that people respond to regenerative medicine, and they have a better chance of maintaining a higher quality of life—which is what most of our patients are always hoping for.
We use DNA micronutrient testing
Healing, vitality and pain relief start with the correct foundation and balance of nutrients, minerals and hormones. Pain, accident, injury, aging, medications, stress and chronic illness can rob our bodies of necessary nutrients. Correcting micronutrients deficiencies not only slows aging and degenerative disease progression but can help prevent injury and repair the body.
Seeing a psychologist can help with pain management
We recently added a pain psychologist to our team to educate patients about the strength of the mind as it relates to the body. The reason is simple: According to the American Academy of Pain Medicine, chronic pain affects more Americans than diabetes, heart disease and cancer combined.
People often think of pain as a purely physical sensation. However, pain has biological, psychological and emotional factors. Furthermore, chronic pain can cause feelings such as anger, hopelessness, sadness and anxiety.
To treat pain effectively, you must address the physical, emotional and psychological aspects. Psychologists can help you manage the stresses in your life related to your chronic pain.
Exercise is important
Exercise has been shown to be particularly helpful with reducing all types of chronic pain. It may seem counterproductive to exercise at all while in pain, but many doctors do recommend it for long-term pain management.
That's why we educate our patients about the benefits of exercise. I also have our kinesiotherapist work together with me to personalize each patient's exercise program because it can protect people from disease and progression.
Spirituality can influence treatment outcomes
We know that each person's own positive outlook and spirituality can affect the outcome of their treatment. If a patient fully believes in the treatment, understands the treatment and trusts the provider, the patient will be more relaxed and happy during an office visit.
So if a patient shares something about her spirituality with me, I encourage my team to honor and acknowledge that part of their lives. Oftentimes, patients ask me to pray with them, and I willingly do so because I know that prayer is just as important as a prescription.
When dealing with pain, it's all about reminding people that they possess the spirit of love, power and a sound mind.
At the end of the day, I want all my patients to know that my team and I appreciate and love them.
I encourage a collaborative effort and open communication because, when we are able listen to people, then we are truly able to find the best treatment for whatever is causing them pain.
Most of all, I challenge my team to think outside the box, especially when someone has a gut feeling that they might have something that could be a game changer for a patient. Why? By taking those bold steps, I know that we're always doing it for the love of medicine.
The Tolbert Center for Rehabilitation and Wellness is a Los Angeles-area state-of-the-art medical facility specializing in using non-surgical and minimally invasive techniques and procedures for the management of chronic pain. Dr. Glenna Tolbert, the founder of the center, is Board Certified in Physical Medicine and Rehabilitation, with a sub-specialty in Spinal Cord Medicine. Dr. Tolbert believes in a holistic approach to healthcare, where the physician, team of specialists and patients work in partnership to restore the quality of life to each patient. To learn how you can treat a number of chronic pain conditions for less money than it takes to have a spa day, check out our pricing at DrGlennaTolbert.com.