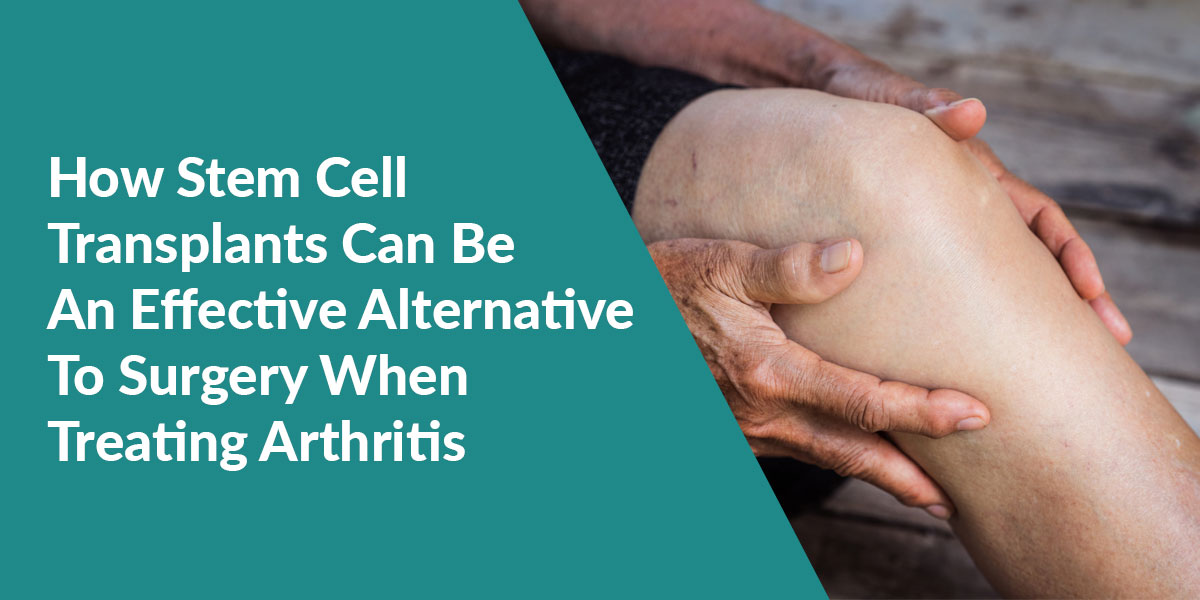 How Stem Cell Transplants Can Be an Effective Alternative to Surgery When Treating Arthritis
Every year, 16 million to 20 million Americans suffer from osteoarthritis.
Of those over 65 years old, one out of two will deal with this painful disease of the knee joint, in which both the bone and cartilage slowly break down.
Osteoarthritis (OA), or more commonly referred to as arthritis, is nothing to ignore, especially as Americans live longer. What's more, a vast number of those affected by arthritis are still very active in activities such as running, hiking, skiing and other sports.
Seems like another musculoskeletal disorder that you'll just have to live with for the rest of your retirement years, right?
Or worse: If you're an active senior with signs of arthritis, you might as well get yourself prepared to put your name on the surgery calendar—at least, that's what we've always been conditioned to think.
If any of these thoughts have ever crossed your mind, then you might be surprised to learn that modern medicine provides us with a non-surgical way to heal people with arthritis and help them stay active, maintain strength and cope with pain.
That's right: We're talking about stem cell transplants.
Let's explain what we mean by first taking a look at the root of the problem.
What is arthritis?
Arthritis is a generic term for inflammation of a person's joints. In the medical field, we divide arthritis into two big groups: inflammatory and "not" inflammatory.
Inflammatory refers to joint damage due to the underlying inflammatory disease process in your whole body, and your joints are just collateral damage. Examples include rheumatoid arthritis, lupus or an infection in your body.
Then there is non-inflammatory arthritis or OA, also known as Degenerative Joint Disease (DJD). These are all names for the same thing, like Bob and Robert.
This is the most common type of non-inflammatory arthritis, which involves the "wear and tear" of our joints. Because we use our bodies for all types of activities, some of us are more prone than others to develop arthritis because of genetics or lifestyle.
More than 50% of adults over 65 have OA. There is no correlation based on race, except with knee OA, which is more common in African-American women. 
It is equally common in men and women before age 55, but higher rates of OA in the knees increases in women and higher rates of OA in the hips increases for the guys.
Stem cell transplants show promising results
Stem cell therapy is the use of stem cells to treat or prevent a disease or condition. Stem cells have the potential to develop into various cell types in the body during the early stages of life and growth. Mesenchymal stem cells (MSCs) are the major stem cells used for stem cell therapy.
Researchers suggest that stem cell injections have the potential to regenerate lost cartilage, stop and reverse cartilage degeneration, provide pain relief and improve patient mobility. MSCs can be isolated from adipose tissue, bone marrow, synovial tissue and other sources.
No surgery required
If there are still skeptics out there, then consider that there are more than 60 clinical trials underway throughout the world on stem cells and arthritis.
Another study highlighted 10 patients with severe osteoarthritis in the knees, wrists and hips whose pain and scans improved after stem cell injection into their joints.
The main conclusion from these findings was that stem cell and regenerative therapies are safe, cutting edge alternatives to traditional orthopedic surgeries. Stem cell transplants are safe and, low-risk options for patients with severe OA, and these treatments come without the risks and downtime of surgery.
It's all about improving your quality of life
At the Tolbert Center for Rehabilitation and Wellness, we are extremely passionate about and believe entirely in stem cell therapy.
At our center, we are now transplanting patients' stem cells to treat arthritis to grow new cartilage and make new joints—and we're getting the same results that you have heard about in these studies. Dr. Tolbert is currently performing stem cell clinical trials herself.
The main thing to keep in mind is that, when it comes to treating  arthritis, ongoing research is occurring and needed for stem cell therapy. The results show that people respond to  regenerative and stem cell injections, and they have a better chance of maintaining a higher quality of life—which is what most of our patients are always hoping for.
Most of all, when it comes to treating arthritis, we believe in finding simple interventions that provide effective pain relief, improve cartilage quality and do not require drastic and invasive measures such as surgery.
If you're seeking an effective treatment for your arthritis, perhaps it's time to consider the power of stem cells.
The Tolbert Center for Rehabilitation and Wellness is a Los Angeles-area state-of-the-art medical facility specializing in using non-surgical and minimally invasive techniques and procedures for the management of chronic pain. Dr. Glenna Tolbert, the founder of the center, is Board Certified in Physical Medicine and Rehabilitation, with a sub-specialty in Spinal Cord Medicine. Dr. Tolbert believes in a holistic approach to healthcare, where the physician, team of specialists and patients work in partnership to restore the quality of life to each patient. To learn how you can treat a number of chronic pain conditions for less money than it takes to have a spa day, check out our pricing at DrGlennaTolbert.com.